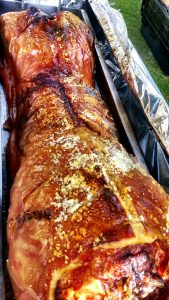 It can often be a struggle to choose what kind of food to have at your party or event but there are many reasons why having a hog roast can be the best decision. First of all, there's the captivating sight of it all; it's often seen as entertainment or theatre, and however you see it on the day, it's likely that the spectacle will stay with you for years to come. Then there are the smells that surround you at your event, the delicious tastes of the juicy meat and the crunchy crackling, as well as the fact that it feels like an exclusive treat to have such an amazing feast.
Unlike many other catering companies, we cook the hog fresh in front of you and always use high-quality ingredients no matter your budget or menu choice. We have plenty of options to choose from at different prices and with various kinds of food, which often surprises people. Even though we are a hog roast company by name, we also cook spit roasts (so chicken, turkey or beef for example), barbecue foods such as burgers and sausages, and also offer fish or other options if you have guests with dietary requirements.
While we have catered for many wedding receptions over the years, on Saturday we catered a wedding breakfast with a hog roast in Inverness. we also provided a vegetarian breakfast option of a homemade mushroom quiche for some of the guests. Our hog roast in Inverness sandwich menu means you get freshly carved pork slices and crackling crammed in buns with apple sauce and stuffing, as well as your choice of condiments that we bring along. There was plenty of food to go around so lots of guests enjoyed seconds and any leftover meat from the stripped beast was saved by the couple to put to use in the near future.
As we catered in the morning before the actual wedding service, we didn't get to congratulate the happy couple after the ceremony, so we'll do it here instead. Congratulations Mr. and Mrs. Hillman! May your married life be filled with love, laughter and (of course) many more hog roasts in Inverness to come!