Give it a go,
HIRE A HOG ROASTING MACHINE
HIRE A HOG ROASTING MACHINE
VERY AFFORDABLE PRICES – VARIES ON DAY OF WEEK AND TIME OF YEAR.
INCLUDES GAS BOTTLE, & COLLECTION ANYWHERE IN SCOTLAND.
EXTRA GAS BOTTLE PURCHASE AVAILABLE.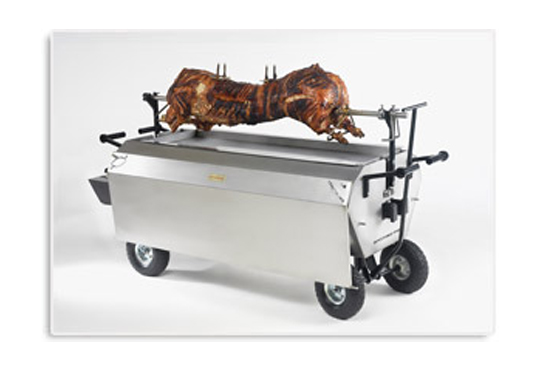 If you can't bear to be parted from the machine,
we will deduct the hire cost from the purchase price of the machine
Nationwide service
Call Us today on 07572813924 or email us at
[email protected]
---
Our DIY Hire Packages are always very popular
One of the more popular options available from us are our DIY hire packages. Here we are offering you the chance to become a hog roaster for the day, just like us. We have put together a number of different hire options all of which make hog roasting possible for you and your guest.
Here at Hog Roast Scotland we only use the finest hog roast machinery all of which is CE certified and tested to ensure that you get perfect results every time. The way in which we have designed the hire packages means we can offer you peace of mind and with very little hassle you can produce results that replicate some of those produced by our most experienced hog roast chefs.
Every one of our hire packages includes:
Delivery of your hog roast machine to anywhere in Scotland at a time to suit you by a trained Spitting Pig chef who has considerable experience working with the machines
The required amount of gas to cook and serve your chosen meat on the machine
A 30 minute demonstration encompassing a wide variety issues relating to your event. This includes how to use the machines, how best to set up your event, advise on cleaning, how to serve from the machine and some handy hints and tips to ensure your event runs as smoothly as possible and you get the best results out of the machine.
An information pack that backs up the presentation so you always have literature to refer to if you get stuck, this also includes contact telephone details for members of the Hog Roast Scotland team to speak to should you need assistance. We are also available on weekends.
The collection of the machine from anywhere in Scotland at a time to suit you.
We have hire options available for both hog and spit versions of our machines and can provide the optional extras of barbecue sets or chicken spits if required. Our standard hire is for the weekend but we also do daily, weekly and monthly hires depending on your requirement. Generally speaking we offer three hire packages.
Just the machine – this just includes all the bulleted points above
The machine and the meat – here we can source the meat for you and arrive with the meat ready prepared or spitting so all you have to do is turn the machine on. We can supply pork, lamb, turkey, beef or chicken for any number of guests.
The complete package. This includes both the hire of the machine and the prepared meat delivered on the day of your event but also includes, all the serving equipment, bread rolls, home-made apple sauce and stuffing and serving tables required for you event.
Why Hire From Us?
As well as being the nations go to Lockerbie Hog Roasters we're also Scotland's favourites for Motherwell Hog Roast machine hire. We have a plethora of machines available for hire, they're of great quality and we use the same models for our own catering service, which will give you an idea of how good they really are!
When I started Hog Roast Motherwell our main business and focus was always catering, but I soon realised the machines currently available for our use just weren't of the high quality we needed, almost immediately we started working on plans for our very own custom designed and built Lockerbie hog roast machines.
A good number of our current clients are in the business of food whether running a pub, a catering service or an actual restaurant. The reason for the popularity of our machine hire within the food industry is really rather simple – When you have a spit roast machine on deck you're going to see an increase in exposure, as spit roasting is plenty special and unique, and you're also going to be candidate for a notable increase in company profits.
The simplicity of hog roasting goes a long way in generating profits, because our machines can cook a mountain of food for very little cost and without much attention from your chefs. The feedback from all our customers, professional and non-professional is just how easy spit roasting is. You can sit a spit roast machine in a busy restaurant kitchen and feed hundreds throughout the night, without paying the machine much in the way of attention or time.
The machines that we can provide you are all certified and have their relevant industry certification. With a machine of ours you can barbecue food with our interior grill as well as cooking side dishes and other foods in stainless steel pans.
You can of course also spit roast chicken, pig, turkey, lamb, beef and plenty more. The machines that we can offer you are capable of cooking up to 30 chickens or a 90kg pig. You could handsomely feed hundreds throughout an evening or event if you use only one of our spit roast machines, with several machines you can cook for thousands.
You won't believe just how easy the machines are to use, and so confident are we also in the quality and durability of our machines that we happily rent the machines to anybody. It doesn't matter to us if you run the most respect restaurant in Scotland or haven't cooked a day in your life and want one of our machines for a BBQ with your friends; the hire service we offer is exclusive to nobody, anyone who wants to be a hog roast chef for the day can be!
We have a hire service that's suitable for everyone. For caterers we hire machines on a weekly, monthly and longer basis. But if you want a machine for your own party for just an evening we have a fixed-event hire service.
We deliver and collect the machines ourselves and on delivery we provide a demonstration, a bottle of gas to power the machine and an option of a fresh pig. Take a look through our website for a little more information or alternatively just give us a call or Email and we'll talk you further through the benefits of hog roasting.