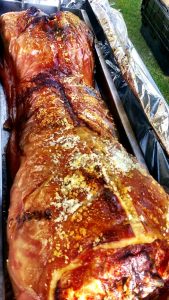 We received a call from a local businessman recently, asking us to cater an informal team building event at his company with a Hog Roast in Musselburgh. We've been providing corporate hospitality for many years now, for both small and large events, formal and informal. Whichever your business needs and however much your budget, you can be assured that we treat all of our customers to the same excellent service and delicious food. In this instance, Ben wanted our Corporate Hospitality Menu Option 1 menu, which is your chosen meat served with sauce inside fresh, floured bread rolls.
This menu option is very popular with businesses as it's a no-nonsense snack in a roll, something nice and simple to enjoy easily and fairly quickly. It can be eaten when on a break from a team building event, for example, or at the end of the day after a long course. Ben decided he wanted a hog roast in Musselburgh for his event, but you can actually choose from several options, including spit roasted lamb with rosemary and mint, a whole spit roasted turkey with cranberries and stuffing, a spit roasted, local, free-range chicken served with gravy and stuffing or a spit roast sirloin of roast beef served with gravy and a horseradish sauce. If you decide you'd rather have barbecued meat, we can cook our handmade, 100% beef burgers or our own gourmet sausages and we also offer chicken kebabs and spare ribs.
We arrived at the event nice and early in the morning, ready to roast a pig to feed lots of hungry employees on their lunch break from the team building. As well as the hog roast in Musselburgh, we had brought along our trusty apple sauce, sage and onion stuffing and lots of condiments, as well as the bread rolls to make sandwiches. Preparing and cooking the pig took several hours and by the time it was resting before being carved, it started to rain. Luckily, we were inside our marquee, which had been placed right next to the building entrance, so that meant the staff barely got damp at all as they rushed out to enjoy our scrumptious hog roast sandwiches.