Just imagine the thrill of a hog roast Ettrick spectacle at your wedding reception – your guests tantalised by the incredible smells of the delicious meat and then astonished by all of the delectable tastes once it's served. Billy and Ida contacted us several months ago with this in mind but with a bit of a twist; they wanted a hog roast Ettrick wedding breakfast instead of an evening meal! As the couple were heading off to their honeymoon straight after the wedding service itself, they decided to serve the main meal in the morning before church instead of the more traditional way of having a hog roast for a reception afterwards.
When Ida called us to make the arrangements for our catering services for the special day, she excitedly told us that she had enjoyed our food recently at a work function and couldn't think of a better way to celebrate than with a hog roast Ettrick. The roast we'd served at her work party had been the typical headless variety but for her wedding breakfast, Ida wanted the pig complete with its head – the ultimate in hog roast theatrics!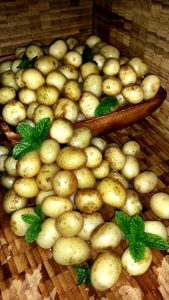 In addition to our irresistible hog roast rolls (we call them 'pigs in buns') the couple decided on a couple of salad and potato choices for the guests. While many wedding breakfasts may feature food such as salmon and croissants, this would be a proper hog roast meal despite the time of day, and who were we to argue!
Our team were at the hotel venue on Saturday when it was still pretty dark outside and we needed torches to set up our marquee and equipment in the gardens at the rear. For the intimate occasion of about 20 guests, we had a small hog to slow-roast, which would take just a few, short hours once the meat had been prepared.
The guests arrived to glasses of champagne and those magnificent hog roast smells and they couldn't wait to tuck in to our fare. Ida and Billy wore comical giant bibs, as they couldn't bear to go to church with stains on their outfits – and a good job they did, too, as our pigs in buns were piled high with apple sauce, stuffing and condiments!