Our tasty winter warmer menu is often a big success at outdoor events this time of year, once the nights get cooler and guests need a little warming up when partying outside, but it's also ideal for indoor events, like the one we catered over the weekend. You may not already know that we can cater inside your venue, but it's an option for your party or event as long as the space is large enough and well-ventilated. For Georgina's 21st birthday celebration, her parents wanted all of the village hall party to be held indoors, and that meant cooking the hog roast Peterhead they ordered from scratch indoors, too.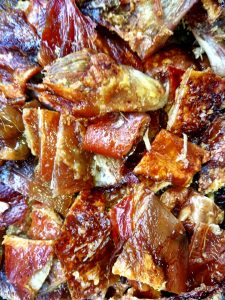 We arrived at the venue early in the afternoon, ready to prepare and roast the large pig in time for a teatime service. Following the meal, the guests would be treated to a DJ and live band, and they could dance the night away (depending on how much of our lovely food they had eaten!) I had the pleasure of preparing this beast myself, so I scored the outside, covered the hog in water to keep it moist, and then smothered it all in lots of salt (the latter bit is how you get the crackling). Then I turned the machine on and let it do its magic.
Once the guests started to arrive, the inside of the village hall was already filled with the fantastic smells of our roasting pork. We'd also cooked a variety of vegetables, which would complete the winter warmer menu. Georgina's parents had asked us to roast parsnips together with cherry tomatoes and spinach; this concoction was a first for me, but the ingredients really worked well together.
Before the food service, we arranged the serving table with condiments and our own stuffing and apple sauce, as well as plenty of serviettes. The guests laid down their gifts on the tables and said a happy birthday to Georgina before heading our way, queueing up to feast on slices of pork, bits of crackling and the mixed veg. Everyone loved the hot roast Peterhead and let us know with their lovely heartfelt compliments as well as their happy faces when they each took a bite.