Easter Sunday is a day to enjoy a delicious meal with others, whether you celebrate formally or not. The menu you choose should be delicious and include something for every guest to enjoy- and Hog Roast Glenrothes have just the right package for every event! Sit-down dining is ideal for a delicious Sunday dinner, and this is what you can expect when you choose to dine with a Hog Roast Glenrothes careering package…
A local family hired Hog Roast Glenrothes to cater for their Easter Sunday meal, which was taking place at their family home. The Williams family take it in turns to host an Easter meal each year, with the venue moving between family members' houses. This year Lauren and her husband were in charge of the meal, and they opted to hire Hog Roast Glenrothes to cater for the occasion. After looking through our catering menus, it was decided that our Classic hog roast would be the ideal choice, followed by a selection of tasty desserts. This wasn't a problem for our team, and we were more than happy to get involved.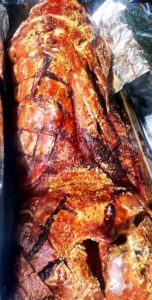 The preparation for our classic hog roast began with slow roasting the meat and ensuring that it was cooked to perfection. Once ready, it was expertly carved and served with a selection of accompaniments, including sage and onion stuffing, crispy crackling, and fresh applesauce. For the side dishes, Hog Roast Glenrothes prepared seasonal vegetables, roasted new potatoes, and homemade gravy. This was a delicious main course and was just right for the family occasion.
Following the main course, we served a selection of tasty desserts, including profiteroles and sticky toffee pudding. The desserts were served with fresh cream and berries, creating an elegant looking and delicious-tasting final course!
Are you looking to book a caterer for an upcoming family meal? Whatever size of formality you require, Hog Roast Glenrothes have a menu that is ideal for you. To find out more, simply let us know your party size, date, and location and we can do the rest.