With the warmer weather outdoor events are once again back on the menu for Hog Roast Pittenweem. We love doing outdoor events when possible; our hog roast is far more suited for cooking outside wherein you can really get the full spit roast effect and spectacle. Plus, it is just far more pleasant to work in the lovely sunny outdoors from time to time, especially when the weather holds.
Now, couple an outdoor dining with a wedding and you have a beautiful event that is really something to savour. That was the case this past week for our lucky newlyweds, Mark and Grace, who tied the knot finally after 7 years of their relationship. Mark and Grace came to us last year as events were finally starting gain traction again and told us that they were hopeful of having their wedding in the summer of 2022 after delaying their previous plans due to the pandemic. They told us then all about their current plans for their wedding, in particular their location which would allow either indoor or outdoor dining depending on the weather for the day. Knowing that Hog Roast Pittenweem are amenable to both outdoor and indoor catering Mark and Grace found us as a perfect option to potentially change up where we would be serving at short notice, plus Mark is also a huge fan of hog roasts so it seemed like a perfect match straight from the go!
Since the sunnier weather has held we were fortunate enough to be able to do our business out in the sun, meaning guests could enjoy their dinner outside and see our chefs out doing what they do best.
As guests took to their tables outside the Hog Roast Pittenweem serving team dished out our incredible antipasti platters to each table. These platters are an excellent option for weddings and pair well for outdoor dining, providing a touch of the Mediterranean to the day with a fine selection of Prosciutto Parma Ham and Salami served with fine cheeses including Buffalo Mozzarella, Parmagiano and Gorgonzola with Artisan Breads.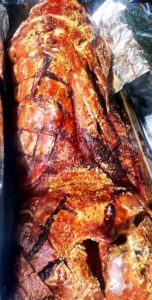 The main was then our prime hog roast, spit roasted throughout the day and served fresh to guests along with our sage and onion stuffing, homemade apple sauce and crackling, and an accompaniment of coleslaw, seasonal leaves, and roasted new potatoes.
It was an incredible afternoon and one which we hope was just as the lucky couple had envisioned for so long!