Port Patrick is a village in Dumfries and Galloway whose early growth was due to its importance within the local fishing industry. It was also a significant port in the 18th and 19th centuries, providing an important link for both passengers and cargo between Scotland and Northern Ireland.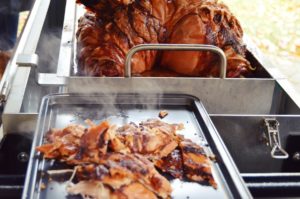 Today Port Patrick is very popular with holidaymakers looking for stunning views and a bit of peace and quiet, and the village also attracts a lot of visitors for its annual 3-day folk music festival every September. A trek around Port Patrick's coastline will lead to the discovery of its significant landmarks, including Killantringen Lighthouse, which first began operating in 1900 and is now fully automated, as well as the ruins of Dunskey Castle. The site stands on the top of the cliffs overlooking the Irish Sea and the castle itself dates back to the 14th century, but it had already fallen into ruin by 1700. The nearby Dunskey Estate however, is far from ruined; this perfectly preserved privately owned Edwardian castle is now rented out as an opulent hotel and wedding venue, as well as providing the ideal base for golf and fishing in the local area.
With so many stunning locations in which to host events in this area, catering in and around Port Patrick in an absolute pleasure. The Hog Roast Port Patrick team have made it our mission to be able to cook in places other companies may deem inaccessible to ensure our clients can have great quality food anywhere of their choosing on the beautiful coastline that surrounds the village. We are constantly developing our menus to cater for all dietary preferences and we ensure our hog roasting machines are the most advanced pieces of equipment in the business, so we can go anywhere you want us to and cook your favourite food when we get there. If you are planning a wedding reception in the grounds of the majestic Dunskey Estate, a buffet for a golfing weekend or a birthday party on the beach, Hog Roast Port Patrick has a menu for you and our highly experienced catering team deliver perfect results every time, whatever the menu or location.