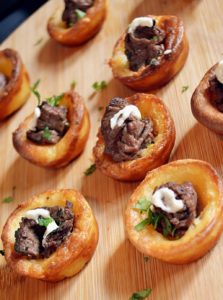 Our quaint market town has thankfully has remained unspoilt by time and Peebles oozes charm and character from every corner of its meandering medieval streets, which are packed with quirky, independent shops. It is hardly surprising that Peebles attracts an arty crowd to its many festivals and the Eastgate Theatre and Arts Centre to view the excellent examples of local artwork in both traditional and modern styles.
Peebles is a very creative place to be and here at Hog Roast Peebles we have always found our town a great source of inspiration when we are devising our own inventive and colourful menus. We employ the same method of blending the modern and traditional in the catering service we provide, which has always been a huge recipe for success.
Great Food for All Occasions
Just like the local artwork on display in Peebles, the Hog Roast Peebles team have achieved the perfect balance of using a classic cooking method to prepare contemporary menus, which is what makes our food such a huge hit with all of our diners, regardless of their tastes.
This gives us the scope and ability to be able to cater for any type of event in Peebles, no matter the size, theme or occasion. One of our traditional hog roasts would be the ideal crowd pleaser at the town's annual festival that celebrates local history and traditions because we employ the same cooking techniques our ancestors used thousands of years ago, but thanks to our imaginative menus and exciting flavour combinations, we would be equally at home feeding a more avant-garde crowd at the Peebles Jazz and Arts Festivals.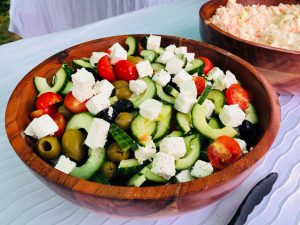 We have worked very hard over the years to ensure we can provide food that everyone will love, and we are able to adapt our approach to suit the nature and level of formality of each event we cater for. We are just as capable of providing elegant wedding menus and formal corporate meals with canapes and table service as we at producing large-scale outdoor buffets.
Hog Roast Peebles's style and menus may vary at each event we are involved in, but our level of professionalism and commitment to preparing all of your dishes from scratch at your venue in full view of your guests using only the best locally-sourced ingredients, always remains the same.