Montrose offers you the best of town living and the sea side lifestyle and if you are hosting an event in this pleasant coastal town and you are in search for a catering option that also offers something for everyone, the Hog Roast Montrose team have the answer.
As well as being able to offer you the best hog roast dining experience in Montrose, we also offer the winning combination of contemporary menus and full flexibility when it comes to the type of venues we can cater in and the style of events our food is suitable for. We are never out of place in any environment and whether we are catering by the coast for an outdoor event or cooking in a cosier indoor venue for a special occasion, we always make every dish on our menus from scratch on-site using the finest ethically reared meat and locally sourced ingredients.
Hog Roast Montrose – Bringing The WOW Factor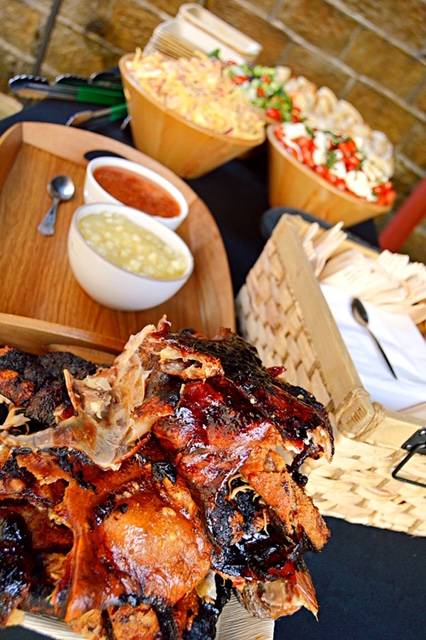 Hog Roast Montrose's wide-ranging menus and flexible catering style allows us to provide superb mobile catering solutions for any type of event, including wedding receptions, public events, birthdays, office parties and more. We have buffet and more formal 3 course meal options available depending on the occasion and all of our menus offer the same level of variety. You can choose from various different slow roasted meats if you would prefer an alternative meat option, such as chicken, beef, turkey or lamb, as well as crowd pleasing barbecue dishes, and meat, dairy and gluten-free alternatives for each menu that we offer.
If you decide a more formal service style would be more suitable for your event, we can have our own events team on-site to provide full table service and we can even organise a canape welcome reception and greet you and your guests in style with platters of our individually handmade canapes.
When it comes to mobile event catering in Montrose, the Hog Roast Montrose team have all bases covered because in addition to treating you to the best slow roasted pork in the area, we are also able to offer you your ideal menu and freshly prepare every part of it in any indoor or outdoor location in Montrose.