Livingston comprises one of the six Scottish 'new towns' that were established after World War II to take the pressure off the hugely overpopulated Glasgow. Given the fact that Livingston is a modern town, it is hardly surprising that it has become a centre for contemporary culture. Howden Park Centre, which underwent a major redevelopment programme in 2009 after receiving a grant from the Scottish Arts Council, is now considered the number one creative arts venue in West Lothian. It houses a variety of art exhibitions, which are free to view, as well as hosting art and dances classes. It has a 300-capacity auditorium with regular live theatre performances from professional artists, and runs a Youth Theatre Programme, as well as having a stylish café bar that is available to hire for weddings and corporate events.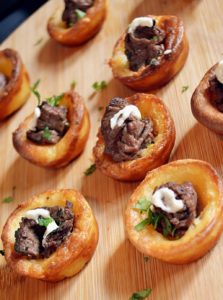 Livingston's other modern architectural triumph is the Livingston Designer Outlet and Shopping Centre, which contains a multitude of high street and independent shops, as well as a cinema and several restaurants and cafes. People come from miles around to enjoy some retail therapy at the Livingston Centre, which also has lots of regular activities both adults and children can get involved in to keep them entertained.
Here at Hog Roast Livingston, we find our contemporary menus compliment the town's modern approach perfectly, from our sophisticated wedding meals to our chic corporate buffets. Our clients in Livingston are always pleasantly surprised with the exciting flavours and level of finesses we offer, in all of our dishes. Our individually handmade canapes are always incredibly popular at more formal events and we get just as much great feedback about our vegetarian options as we do about our traditional hog roasts.
It isn't just our food that makes us stand out when it comes to catering in Livingston. Our hog roast machines aren't just incredibly practical and designed to cook vast quantities of meat to an excellent standard, their sleek exteriors also make them a great centrepiece for hosting an event in any stylish or artistic setting in Livingston, and they are compact enough to be fully operational in any indoor or outdoor space. The Hog Roast Livingston team love delighting our diners on a daily basis with our perfect balance of style and substance.