If you are planning to host a Hog Roast in Galashiels, you will love our service. For over a decade, we have been providing party food for people in the area and would welcome the chance to do the catering for your next party, family wedding or corporate event.
Real hog roast specialists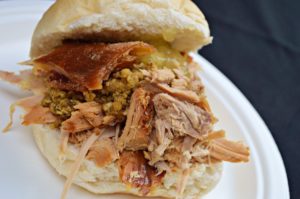 We specialise in cooking whole hog roasts. They really are a fantastic way to feed a lot of people. The fact that pork is relatively inexpensive makes it one of the most affordable ways to feed party guests. A medium-sized hog can easily feed 80 people.
We can use different rubs, stuffing's and sauces to create the flavour that works best for you. Our chefs are very experienced. They will happily spit roast or barbecue virtually any kind of meat, and we also offer tasty vegetarian alternatives.
We can also provide salads, desserts, side dishes and canapés. Our list of menu items is regularly updated to make sure that you have a good choice of dishes that are popular with most people.
Most people ask us to prepare a traditional hog roast that is served in rolls with apple sauce for family parties. However, we also offer buffet, carvery and sit down services.
If you are holding a wedding or corporate event you can ask us to provide you with front of house staff, as well as a team of experienced waiters. You can trust Hog Roast Galashiels to look after each guest, so everyone goes home happy and full of tasty, high-quality, food
Ready to learn more about our services
We're always happy to have a chat about our services, so please get in touch with us if you would like to learn more. Simply fill in the contact form, email us or pick up the phone and give us a call.
No matter what your requirements are, we're sure we can help you, so just get in touch and let us talk you through what we can do for you.