Located in the Central Lowlands, the town of Falkirk is a hive of Scottish culture, industry and history. The Antonine Wall, a UNESCO World Heritage site near Falkirk, marks the most northerly frontier of the Roman Empire in Great Britain. It stretched across the whole of Central Scotland, and many parts of it are still standing today. It is also the town where William Wallace was defeated by the English King Edward I during the 1st Scottish Battle of Independence in 1298. Falkirk is clearly a town with a very long and eventful past, the remnants of which are still evident today.
Wonderful food for all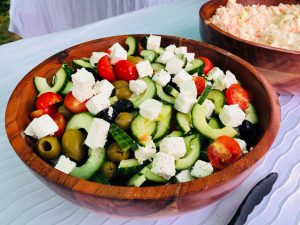 Nowadays, Falkirk's most striking landmarks are the two 30-metre tall Kelpie sculptures, which loom imposingly above the entrance to the Forth and Clyde Canal in Helix Park. These massive models of horse-like mythical sea creatures were conceived as a tribute to the integral role horses played in the town's industrial past and they are the largest equine sculptures in the world. Remarkable in both appearance and design, they were erected in 2013 over the course of 90 days and weigh a staggering 300 tonnes each. Visitors to the site can not only look upon these marvellous sculptures, they can also go inside them to discover the complex feat of engineering that was required during their construction.
Falkirk is a town of many contrasts and requires a catering company that can complement its many facets. Here at Hog Roast Falkirk, we relish the challenge of catering in diverse locations and providing varied menus that are suitable for any kind of special occasion. Because our equipment is so advanced, and our catering team are so skilled and versatile, there is no venue in Falkirk that is off limits to us, and there is no event we couldn't provide a fabulous meal for. Regardless of tastes or dietary requirements, we have something for everyone, even if a hog roast isn't your number one choice. Both our new and existing clients in Falkirk value our commitment to using only the best locally -source ingredients, and our ability to adapt to any environment to ensure we provide the best menu and level of service that your special occasion deserves.